Watch Video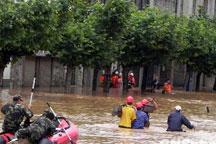 Play Video
Seven hours of torrential rainfall has hit Yunnan's Malong County.
It filled a nearby reservoir to the brim and flooded the area with water up to 1.5 meters deep. According to the local government, more than 1,000 stores and 1,000 homes have been inundated and power supplies cut. About 55-thousand people have been affected and more than 6-thousand evacuated. Despite the rainfall, drought is still affecting 30 counties in the province, meaning authorities are having to deal with both situations at the same time.
Kong Chuizhu, vice governor of Yunan province, said, "Drought relief and flood control are equally important. We haven't had such problems for many years. We should pay equal attention to fighting drought and floods at the same time.Yunnan's landform is unique and rainstorms can cause great damage."
Editor:Zhang Ning |Source: CCTV.com