Watch Video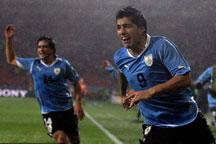 Play Video
More from the World Cup round of 16: no Asian team has ever beaten a Latin American side in the knockout stage. Could South Korea become the first, and make history against two-time World Cup champion Uruguay?
Uruguay in blue...Diego Forlan launched a cross from the left and Luis Suarez landed the goal to give Uruguay the lead in the eighth minute. (replay) Suarez scored with a shot from a tight angle. His team's chances looked good because Uruguay and Portugal were the only teams to go through the group stage without conceding a goal.
But South Korea would stop that streak in the second half. Uruguay's goalkeeper Fernano Muslera left his line to meet the ball and Lee Chung-yong equalized with a header. Lee gets it past the last line of defense at the net. South Korea ties it up 1-1 in the 68th minute.
Wind and rain began to move in on the match as it came to a dramatic end. Suarez sidestepped two defenders and curled in a shot off the post for the winner in the 80th minute. Uruguay wins 2-1, and is headed to the quarterfinals for the first time in 40 years. South Korea reaches the end of the road at the 2010 World Cup.
Uruguay coach Oscar Tabarez said, "Our players are very young. A majority of them play in well-known international clubs and have accumulated experience. The team was very active, and very good with collaboration and teamwork. In the last moments of today's match, it was their unity and solidarity that became our most deadly weapon. "
South Korea Huh Jung-Moo said, "Today is the most regretful day for me in this World Cup. Our players were playing better and better and becoming more and more confident. But today we suffered great frustration. If I needed to name some shortcomings, I think it is that when playing against first-class opponents, we are not able to deal smoothly with scoring opportunities."
Editor:Zhang Ning |Source: CCTV.com