Watch Video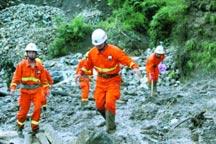 Play Video
Rescuers say 107 people buried by a landslide in southwest China's Guizhou Province have a "slim" chance of survival.
The rainstorm-triggered landslide occurred at 2:30 pm on Monday in Dazhai Village of Anshun City. Yang Yan has the latest.
The mud-rock flow rushed 1 and a half kilometers into the village.
More than 600 soldiers and local residents took part in the rescue work.
They helped move the landslide debris that had covered roads leading into the village.
But later on Monday rescue work was suspended due to worries that continuing rainstorms would trigger additional landslides.
Pu Zhigang, political commissar of Anshun Detachment of Armed Police Force, said, "Debris from a pair of mountains flowed into the village. The landslide destroyed all the houses and blocked the roads. Large machines are unable to access the site. Now everything depends on the soldiers working by hand with basic equipment. The rescue work is very tough."
Vice Premier Hui Liangyu is in Guizhou to guide the rescue and relief work.
He visited the relocation sites, comforting victims and encouraging the soldiers.
He called for full efforts to save the buried and give timely medical treatment to the injured.
The local meteorological bureau says rains have plagued the region for one week with a record daily precipitation of 257 millimeters on Sunday.
The bureau is calling for an additional 30 to 40 millimeters of rain on Tuesday.
Related stories
Editor:Zhang Ning |Source: CCTV.com