Watch Video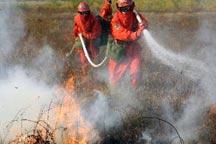 Play Video
Two new fires broke out in The Greater Xing'an Mountains in China's North-eastern province of Heilongjiang on Monday.
9,000 firefighters are combating the blaze. One forest policeman says in some places the temperatures are too high to approach. Most vegetation in the area consists of trees which contain high levels of oil. And the continuing summer heat is making the rescue efforts harder. These two fires bring the total in the area to three, since Saturday, although the first one has now been extinguished.
The Greater Xing'an Mountains house the biggest forest in China. There is a danger that further fires will be triggered by thunder-storms from May to July.
Editor:Zhang Ning |Source: CCTV.com