Watch Video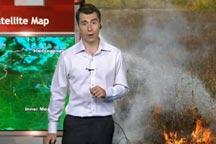 Play Video
For more on the raging forest fire in Heilongjiang Province, we now cross to weather presenter Darryl Snow at the China Meteorological Bureau.
Q1: China's National Forest Fire Prevention Headquarters issued a red alert yesterday, the highest warning level. It seems the situation is quite severe. Can you elaborate on the reasons this particular blaze is so ferocious?
Q2: 9,000 fire fighters have been mobilized to the affected region so far. What can we expect over the next few days? Is the weather likely to get any better, which would help them extinguish the blaze?
Editor:Zhang Ning |Source: CCTV.com