Watch Video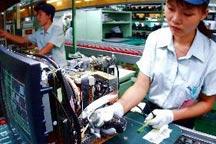 Play Video
China's double-digit economic growth in recent decades has transformed the lives of one-fifth of the world's population. But it has also brought about unprecedented social and economic challenges. Some of the most pressing questions include how to bridge the gap between rich and poor and how to balance interests between the powerful and the powerless.
Starting today, CCTV's reporting team is talking to workers, business owners, and policymakers to investigate all the key issues involved. To initiate this special series, our reporter Wang Guan traveled to Guangdong Province to look at some innovative solutions companies are offering as the age of cheap labor comes to an end.
Chinese manufacturing workers.
The backbone of the country's economic miracle over the past 30 years.
Now, they're getting impatient with long hours and low pay ... The culture behind China's reputation as the world's factory.
Experts say the recent grassroots labor movement at numerous factories in the nation's south signals the end of an era.
Professor Liu Baocheng from University of International Business & Economics,said, "China has surged to 3,000 dollars in its per capita income. From the experiences of newly industrialized countries, the workers will not only be concerned about how much they get paid, but also look for entertainment, social welfare, and participation in the decision making process."
Many enterprises have been forced to change.
This company is the one of the largest producers of electronic devices for cars in Guangdong.
To cope with rising labor costs, the firm's management says it's introducing new automation ... in order to produce more with less.
CCTV reporter Wang Guan said, "For example, this part of the assembly line will be replaced by machines within the next few months but that doesn't mean these workers will be laid off. Instead, they will receive training organized by the company to upgrade their skills to work on higher value-added products."
We bumped into a training session on this very floor.
Most of these workers only have junior high school education, because their parents back in the countryside couldn't afford to provide additional schooling. Now it's time to recharge.
All 3,000 employees here take turns attending classes which are given twice a day, seven days a week.
But it takes more than skills to succeed it takes imagination.
A strong R&D team is coming together at this electronics plant.
R&D staff member of Evervictory Electronics,said, "I'm developing software programs, and designing different models of GPS devices for cars, because different cars need different designs and programs to look just perfect."
These engineers are among this company's highest paid staff members, with some having graduated from China's most prestigious universities.
They are turning ideas and theories into designs and products and constantly revising them to satisfy changing customer preferences.
Automation,education and innovation.
These are some of the answers to rising labor costs from enterprises in China.
When a younger workforce has more rights awareness.
And when the age of crushing the sweat of the workers as a main source of their income comes to an end.
Editor:Zhang Ning |Source: CNTV.CN