Watch Video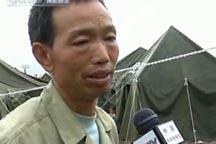 Play Video
Rescuers in Southwest China's Guizhou Province have been struggling in treacherous conditions to evacuate more than 60 villagers in Guanling County. Days after the devastating landslides took place, survivors are still traumatized by memories of the fateful moment.
Local villager Cen Chaoyang was feeding pigs when he heard rocks and mud barreling down the hill. He rushed out of his home immediately to alarm other villagers. But he didn't see anyone not even his wife.
Cen Chaoyang, villager of Guanling County, said, "The only thing I know is that landslides swallowed the village. My wife was buried under the debris."
Zhuo Guangchao, villager of Chuanling County,said, "I heard something roaring behind me, and I rushed out. It was like an explosion. Rocks and mud were rumbling down the hill, and pouring into our village."
Rescuers had to run five kilometers to reach the site, which was inaccessible to vehicles.
Ling Feng, commander of Guizhou Provincial Military Command,said, "We had more than 100 rescuers searching up the hill, and they discovered a body. Then we climbed across the mountaintop and found a village. We saw about 10 survivors at that time, and located 10 more later. Along our route, the largest village had more than 70 residents. The mountaintop is still collapsing, and the rain hasn't stopped yet."
A spokesman for the local government in the city of Anshun, which administers Guanling County, says 387 villagers living near the buried site have been moved out.
Rescuers then set up makeshift camps for the survivors. Officials have begun providing disaster relief supplies -- including drinking water, food, and tents -- to the remaining evacuees.
Editor:Zhang Ning |Source: CCTV.com