Watch Video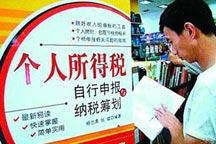 Play Video
Income distribution is perhaps one of the issues that most concerns Chinese society, affecting everyone in the workforce. Top legislators are formulating plans to improve the situation through tax reform. As our reporter Wang Mangmang finds out, it's still a question under debate.
The current tax reform involves three parties -- the individual, the enterprise, and the government. The goal is to increase workers' wages and adjust income distribution.
Two proposals are on the table. In Plan A, the government first lowers taxes for employers, who pass the money on to employees. In Plan B, companies first raise wages, and the government cuts corporate tax accordingly.
Li Xiaomeng runs a private company in Beijing. His businesses include interior design, real estate, and stakeholding. Li considers the tax reform good news. He prefers Plan A.
Li Xiaomeng said, "I think, for Plan A, the government must have a strong mechanism to execute and supervise to make sure the money goes to the employees. At the same time, the companies will feel reassured to see deduction first. And that way, we'll be more willing to promote this reform."
Li's idea may represent the interests of many private business owners. But there's a reason for two plans.
He Keng is Vice Chairman of the Economic and Financial Commission of the National People's Congress. The Commission is a key initiator of the reform. He votes for Plan B.
He Keng said, "Personal income is small compared to corporate profits and government tax revenue. Enterprises are generally making good profits, and taxation is within a reasonable range. So it's important to let the money first reach the individuals."
Li's company has one hundred and thirty employees. He often gives raises to reward performance. Nonetheless, he's happy to see the government is taking action, for the sake of individuals. Still, the chairman has some concerns.
Li Xiaomeng said, "Employees' insurance and housing allowance will increase as salary rises. So it means the company will have higher costs. And I think it's important to make sure that the personal income tax will not be counted twice, so employees can fully enjoy the benefits."
He Keng said, "The government may fully or partly cover employees' insurance for small and medium sized enterprises, especially those with high labor density. Some foreign countries have done this. This way, employees make more money, and the employers have a lower burden and costs."
Workers in small and medium sized companies, especially those with high labor density, are often people earning the lowest wages. Raising their income may provide a practical solution to the widening distribution gap. No matter what the final plan is, the key is to make sure the money really goes to the employees. And the employer will be crucial in promoting this reform.
Editor:Zhang Ning |Source: CCTV.com