Watch Video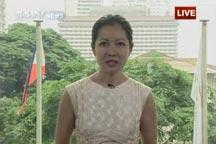 Play Video
For more on the swearing-in of Philippine President-elect, Benigno Aquino the Third, let's cross over to Candace Giron, who's in Manila's seaside Rizal Park.
Q1: Hello, Candace. Could you brief us on the ceremony? It seems that many political figures are present.
Q2: Mr. Aquino announced his cabinet appointees on Tuesday. Are all the seats filled now and what's the outlook for the mixture of old hands and fresh faces?
Q3: Mr. Aquino promised to fight corruption in his campaign and has since formed a panel to investigate such cases. Will the newly set-up "truth commission" take tough measures to look into former President Arroyo's alleged corruption?
Q4: Apart from anti-corruption, what else can we expect from the new president's political agenda?
Related stories
Editor:Zhang Pengfei |Source: CCTV.com