Watch Video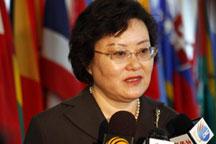 Play Video
Chinese diplomat and international law expert Xue Hanqin has been elected as a judge at the International Court of Justice. The ICJ is composed of 15 judges chosen in a pair of independent ballots by the UN General Assembly and Security Council.
Xue won all 15 votes cast in Tuesday morning's Security Council session. The result was then announced by Claude Heller, the Mexican UN Ambassador who holds the rotating Security Council Presidency for June. At the open Council meeting, Heller also read a letter from General Assembly President Ali Treki, reporting that Xue had won a majority of votes in the 192-nation body.
Xue was appointed as China's first Ambassador to the Association of Southeast Asian Nations in December 2008. Her previous posts were Ambassador to the Netherlands, and Representative to the Organization for the Prohibition of Chemical Weapons.