Watch Video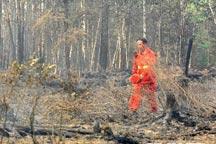 Play Video
After a brutal 6 days, fire control authorities say the forest fire in a part of the Greater Xing'an Mountains in China's Inner Mongolia Autonomous Region has been put out. But firefighters are still struggling to put out the blaze in neighboring Heilongjiang Province.
Authorities say Wednesday's rainfall and temperature drop helped operations in Inner Mongolia. But continuous high temperatures still plague Heilongjiang. It's too hot to get close to the site. Firefighters have to build fire barriers during the day, and battle the blaze at night. Headquarters is sending another 6,000 fire fighters and additional equipment.
Temperatures in the Greater Xing'an Mountains Region have been hovering over 37 degrees Celsius recently. Seven counties and districts have witnessed record highs. Weather services expect the dry hot weather to continue for the next three days, but forecast light rain for today.
Related stories
Editor:Zhang Ning |Source: CCTV.com