Watch Video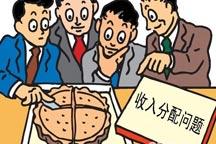 Play Video
The global economic crisis has compelled China to adjust its industrial structure and hasten the pace of economic reform. Top leaders have recently called for further adjustment of the national income distribution, to expand domestic spending and promote social harmony. Today in our "Closing the Gap" series, reporter Han Bin looks at the broad reforms being inititated.
53-year-old Meng Xiaolin has been working as a porter in western China's Chongqing. His monthly income is less than 1,000 yuan, some 120 US dollars.
This is where Meng and other migrant workers are living. A low-rent apartment provided by the government. A home of his own is his dream.
Meng Xiaolin, migrant worker of Chongqing, China, said, "Life is difficult. Even with the entire retirement pension and my life savings, I could not afford a house in the city. And I only have two more years to work. "
Meng's complaint reflects the general concern of the widening income gap. Debates on reform are under way.
The China Democratic League, one of the eight non-Communist Parties, carried out a comprehensive study of income distribution in May. Zheng Gongcheng is one of the principals.
He says China urgently needs a wealth distribution revolution, based on giving priority to efficiency.
Zheng Gongcheng, member of China Democratic League Central Committee,said, "The distribution shares of the government and enterprises are getting higher faster. However, laborer income, the proportion of primary income, as well as individual income in the percentage of gross national income is deteriorating."
Zheng Gongcheng says China has to shift the focus of its economic growth engine from exports to domestic demand. And a system of "multiple distribution methods" should be established.
Zheng Gongcheng said, "The reform does not simply mean wealth redistribution and raising labor income. It relates to people's livelihood and social equality, transforming the economic structure to maintain a healthy development, and creating a comprehensive welfare system."
At present, the Chinese government is putting more emphasis on narrowing the income gap to defuse public complaints.
Premier Wen Jiabao has vowed to enhance a rational income distribution system, as it is an important manifestation of social fairness.
Professor Cai Hongbin says the reform is not only to distribute the "pie of social wealth" well, but also to make the pie bigger so everyone can benefit.
Professor Cai Hongbin said, "I think we should start with the government, to reform the SOEs, especially the monopoly sectors, and spending lots more on education, health, and social benefits for the average workers."
Whatever the means of reform, they all include raising wages. Putting money in workers' pockets will help accelerate China's growth.
China's thirty years of booming economic development has produced impressive national wealth. But the uneven distribution has weakened domestic demand and created social problems. The reform of income disparity affects the core interest of all people, making it no easy task. Yet it seems the government is determined to meet all the challenges ahead."
Meng Xiaolin and his fellow workers feel heartened by the government's remarks on income distribution. They have greater hope for a better life.
But till change comes, Meng has to make his own way.
Editor:Zhang Ning |Source: CCTV.com