Watch Video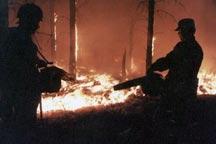 Play Video
China's fire control authorities say firefighters have launched their final assault on forest fires in mountains in the northeast.
The fires cover an area of dozens of square kilometers on the Greater Xing'an Mountains. The first fires were spotted Saturday afternoon in Inner Mongolia. They later spread to neighboring Heilongjiang province. Thousands of firefighters have been deployed.
All the fires in Inner Mongolia have been extinguished. But the National Forest Fire Prevention Headquarters say 10 fires in Heilongjiang continue to burn. The headquarters has provided 5 million yuan, or about 735,000 US dollars, to fight the blaze.
Editor:Zhang Ning |Source: CCTV.com