Watch Video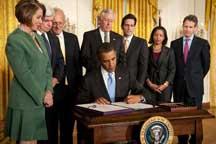 Play Video
US President Barack Obama has signed a bill imposing tough new sanctions on Iran's banking and energy sectors.
The aim is to curb nuclear work that Tehran says is for energy production, but Washington suspects is aimed at bomb-making.
The Obama administration hopes the new unilateral sanctions, combined with ones approved last month in the UN Security Council, will yield results.
The president laid the blame for the sanctions squarely on Tehran.
Barack Obama, US President, said, "In the entire world, there is only one signatory to the NPT (Non-proliferation Treaty), only one, that has been unable to convince the International Atomic Energy Agency that its nuclear program is for peaceful purposes -- one nation - and that nation is Iran."
As lawmakers looked on, Obama called the new law the "toughest sanctions".
Barack Obama, US President, said, "We are ratcheting up the pressure on the Iranian government for its failure to meet its obligations. And, today, we're taking another step, a step that demonstrates the broad and bipartisan support for holding Iran accountable. I'm pleased to sign into law the toughest sanctions against Iran ever passed by the United States Congress."
The measure goes beyond recent UN Security Council and EU sanctions.
It penalizes companies from other countries that do business with Iran.
The US Treasury Department would require American banks to prohibit or impose strict conditions on "correspondent" or "payable through" accounts of any foreign banks working with key Iranian entities.
Penalties will be imposed on US banks if their foreign subsidies are doing any business with the Revolutionary Guard or its "front companies" or affiliates.
Civil penalties may be up to 250 thousand US dollars or an amount twice the value of the actual transaction. Criminal penalties may be up to one million per transaction and include prison sentences of up to 20 years.
The law sanctions any company worldwide that exports gasoline or other refined petroleum products to Iran.
Obama can choose from a menu of possible sanctions.
Companies could be banned from currency exchanges through US banks, or using US financial institutions for credit transactions or payments, or engaging in property transactions with US citizens or companies.
Related stories