Watch Video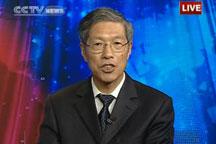 Play Video
For more analysis on the new sanctions on Iran, we are joined by Professor Tao Wenzhao from the Tsinghua Center for China-US Relations. Good morning, Professor.
Q1: Earlier, Iran said countries that want to participate in the talks on nuclear issues, should make clear whether they oppose Israel's purported atomic arsenal, whether they support the Non-Proliferation Treaty and whether they want to be friends or enemies with Iran. Will these three conditions frustrate diplomatic efforts?
Q2: The relationship between the US and Russia has been "relaunched" after Russian President Dmitry Medvedev paid a visit to the US. Following recent Russian spy arrests, will Washington's new sanctions on Iran further hurt ties with Russia?
Related stories
Editor:Zhang Pengfei |Source: CCTV.com