Watch Video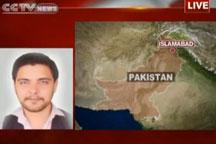 Play Video
Our correspondent Danial Khan is in the Pakistani capital Islamabad to update us on Thursday's blasts in Lahore. Hello, Danial. Can you first tell us the latest situation there?
Q2. We know the blasts took place at the shrine Data Darbar in the heart of Lahore. What's the significance of this shrine?
Q3. And are there any further details on the identities of the bombers?
Thank you very much, Danial. That's our correspondent Danial Khan in Islamabad, Pakistan, on Thursday's suicide blasts in Lahore.
Editor:Zhang Pengfei |Source: CCTV.com