Watch Video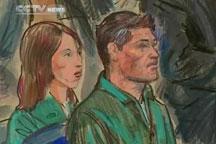 Play Video
Two more people in the suspected Russian spy ring have admitted to using fake identities in the US. They were among the 11 arrested this week on suspicion of spying for Russia.
The suspects known as Michael Zottoli and Patricia Mills were arrested in Arlington, Virginia. They ve been living as a married couple with two children.
Prosecutors said Friday they had admitted their real names are Mikhail Kutzik and Natalia Pereverzeva.
Investigators found 100-thousand US dollars in cash and fake passports and other identity documents in safe deposit boxes.
They were charged with being foreign spies and conspiracy to money laundering.
The pair and a third defendant, Mikhail Semenko, remain in jail after giving up their right to a detention hearing.
Six other defendants have appeared in courts, and one was granted bail.
Meanwhile, Cyprus police said on Friday that the only suspect arrested outside the US, suspected paymaster Robert Christopher Metsos, has likely fled the island.
He failed to report to a police station on Wednesday as ordered by the court.
Police have ruled out escape through one of the two legal airports under monitoring. The US Embassy in Cyprus has denied media reports that it's holding Metsos.
Editor:Zhang Pengfei |Source: CCTV.com