Watch Video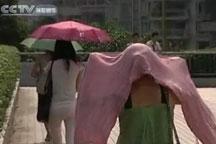 Play Video
Over the past three days, many parts of China have been hit by scorching hot weather with temperatures over 35 degrees Celsius. It has prompted China's Meteorological bureau to issue a blue alert.
Guangdong province in South China.
35 degree heat and high humidity.
It's uncomfortable to say the least.
People who can stay at home - are doing just that. Trying to stay cool.
Those who have to work are battling the heat the best they can with hats, umbrellas and drinking lots of water.
The local government has warned residents to take precautions to prevent heatstroke.
At a community centre in central China's Wuhan city, residents are staying out of the sweltering heat, relaxing in air conditioned rooms, reading newspapers, watching television, or just have some tea and socializing.
Wu Yuhua, Director of Xinhe Neighbourhood Community, Wuhan City, said, "Since yesterday, we have organized local residents to stay here. It opens from eight AM to midnight, and we have work staff on duty everyday."
In Hangzhou City, in east China, an air-raid shelter has been opened for the public.
Many residents don't just go there for its cool temperature, but also for it's great service getting food and drinks.
Local Resident, Hangzhou City, said, "I come here every year, it is much better than staying at home."
Just after this resident arrives, she makes new friends and begins to play chess with them.
It is not just South China sweating through the heat wave, North China is also facing hot weather.
In Tianjin City, high temperatures mean big business for most local operators. On Heping road, cold drinks have almost sold out due to the high demand.
Cold Drink Shop Manager, said, "From nine-thirty AM to noon, we have sold over one hundred boxes of ice-suckers, that's two times more than usual."
The weather bureau says the heat wave is going to stick around for the next few days, with temperatures rising to 38 degrees Celsius,a record high for this summer.
Editor:Zhang Pengfei |Source: CCTV.com