Watch Video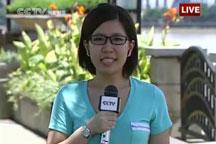 Play Video
For the latest on the high temperatures in Guangzhou, the capital of Guangdong province, we now cross to our reporter Zhang Miao. Hello Zhang Miao.
Q1. What measures are the local government and residents taking to cope with the heat wave?
Q2. What's the forecast for the next few days? Any chance the weather will cool down?
Editor:Zhang Pengfei |Source: CCTV.com