Watch Video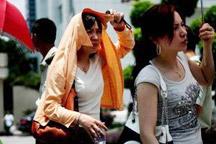 Play Video
For more details on the heatwave, we are joined on the phone by our reporter Yang Yang, who's in Fujian province.
1. Hello, YANG YANG. What's the weather like in Fuzhou today?
2. We know Fujian suffered flooding last month. How is the government responding to the hot weather together with continuing disaster-relief efforts?
3. Are the high-temperatures expected to continue?
That's Yang Yang, reporting from Fuzhou, in East China's Fujian province.
Editor:Yang Jie |Source: CCTV.com