Watch Video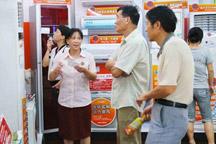 Play Video
Not everyone is complaining about the heatwave, especially those who are making money from it.
A hot summer calls for cool ideas to beat the heat.
These are also the items businessmen look for in order to cash in.
Air-conditioned taxis cruise the city, hoping to lure those who are used to walking or taking buses. They have become the best option for many.
Taxi Driver, said, "Our business is better than usual. The weather is so hot. No one wants to cram onto a bus."
Also feeling the gain are the fruit sellers. Their businesses have heat up as quickly as the weather. Watermelon is always the the best seller.
"It's the best to quench thirst, and relieve the heat."
And for more non-edible methods of relieving the heat, don't forget these.... air-conditioners and electric fans.
With pricetags that range from hundreds to thousands of yuan, there's plenty of options to choose from.
"The sales volume of electric fans in our shopping center has jumped 10 percent these days, hundreds are sold each day."
Indeed a keen eye for business might be the best way to make good of an uncomfortable situation.
Editor:Yang Jie |Source: CCTV.com