Watch Video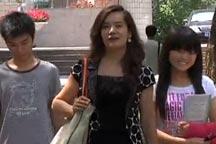 Play Video
In addition to a stunning landscape, the Xinjiang Uygur Autonomous Region boasts diverse ethnic groups living in harmonious balance with nature, and each other. Our reporter Wang Zirui brings us such a story involving a local teacher and her students.
Malihaba Aolan is a native ethnic Uygur of Urumqi City, capital of the Xinjiang Uygur Autonomous Region. She has been living here for over 30 years. Malihaba is a professor majoring in English literature in the Foreign Language Institute of Xinjiang University. In the three decades she has lived in the area, and struck up deep friendships with many of her colleagues, friends, and students of all ethnic groups.
Every July the university students are busy preparing for their final exams. Today Malihaba Aolan is holding a class meeting with her students, about preparation needed to sit the exams, and to get a positive result. They are also discussing how best to spend the two month summer students who are of different ethnic groups, enjoy the relaxed atmosphere. They consider her not only a teacher, but also a friend.
Malihaba is an experienced tutor, and not only to the students. Many other teachers come to her for advice. They often ask her for help, both in academic fields and in daily life. Teachers of different ethnic groups all consider her a good friend.
After class, Malihaba takes her son to basketball club. She sits with the other parents, watching him play matches with kids of all different ethnic groups. She also have so many good friends.
Editor:Zhang Ning |Source: CNTV.CN