Watch Video
Play Video
The National Meteorological Center says the scorching heat which has been bearing down on many parts of China will continue for a few more days.
The weather forecasting authority issued a yellow heat alert on Sunday, two notches below the top level.
Officials say the average maximum temperature across the country could exceed 37 degrees Celsius over the next few days. The local meteorological bureau in north China's Hebei Province also upgraded its heat alert. It predicts the temperature in most parts of the region will reach 35 degrees, and might top 40 degrees Celsius in some places.
Thermometer readings have already reached 37 degrees in some cities in south China's Guangdong Province. The hot weather is expected to cool down around the country after Wednesday.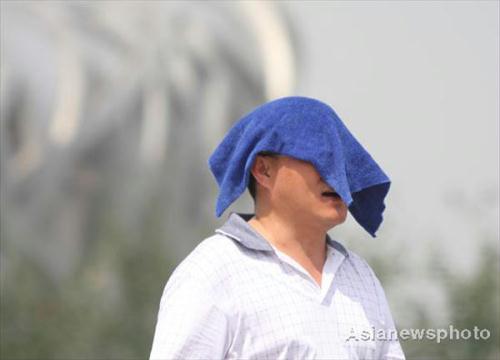 A man covers his head with a wet towel to shield himself from the sun in the Beijing
Olympic Park on July 4, 2010.(Source: China Daily/Asianewsphoto)