Watch Video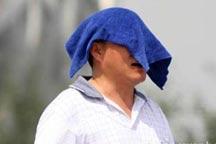 Play Video
As large parts of China endure the scorching weather, many local residents are looking at ways to beat the heat.Some businesses are also seeing their revenues soar along with temperatures.
The summer is heating up.
Temperatures in Tianjin Municipality are soaring.
The best way to avoid the heat and sun, is to stay home or indoors.
For those who have jobs that require them to be outside, having hats and umbrellas are essential for protecting oneself against the heat.
But not everyone is complaining. Local businesses and vendors selling cold drinks, are seeing business soar, along with the temperature. On Heping Road, one ice-cream seller has almost run out of stock, due to surging demand.
A Tianjin shop manager said, "We have sold over one hundred boxes of ice-cream this morning."
In Wenzhou City, in east China's Zhejiang Province, residents are also suffering from the hot weather, with temperatures climbing up to 41 degrees Celsius.
Local residents have been told to stay indoors when ever possible. For the more adventurous type, one can also enjoy the cool air of an air-raid shelter.
Meanwhile, the heat wave is threatening electricity supplies, as power demand breaks records. Local government officials are making every effort to ensure reliable supplies.
In Xi'an, in northwest China's Shaanxi Province, although working conditions are tough, drivers and traffic officers continue to work despite the scorching weather.
A Xi'an bus driver said, "The engine is very hot due to the sweltering weather. My clothes is all wet."
Traffic wardens are also taking precautions, making sure they have lots of drinking water to battle the heat.
A Xi'an traffic warden said, "We have been given some medicine to prevent heatstroke."
China's weather bureau says the heat wave is going to continue to bake the country for the next few days, with temperatures in some regions reaching up to 40 degrees.
Editor:Zhang Ning |Source: CNTV.CN