Watch Video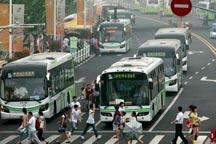 Play Video
More than 354,000 people braved the heat on Monday to visit the Shanghai World Expo. Transport is in hot demand to get around the expo park, which is a much cooler alternative to walking. Organizers say the transport system has been working well and will further integrate it to keep up with the big numbers.
In the first two months since the expo officially opened, an average of 800 thousand visitors have been using the transport system everyday. That's about two and a half times the number of daily visitors.
Buses in the Expo site are carrying about three quarters of the visitors every day. Now, the site has increased the number of bus routes to nine, with the shortest waiting time just 13 seconds.
Organizers are also increasing the number of buses to 61, almost double the previous number.
Zhou Huai, chief of Expo Transport Service,said, "We've also increased the number of drivers. This is to ensure they can work in rotation, so that the buses will not stop services, even at dinner time."
New energy buses are on standby in the Expo site. Air conditioners on all the buses are working to ease the scorching heat.
Taxi stations have been set up at all nine entrances and exits of the Expo site. And traffic lights are ready to function at major intersections, to ensure order and improve traffic efficiency.
Editor:Zhang Ning |Source: CCTV.com