Watch Video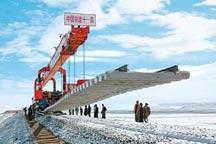 Play Video
China's State Council Information Office has held a press conference to mark the 10th anniversary of the country's "Western Development" strategy.
Officials from the National Development and Reform Commission, Inner Mongolia Autonomous Region, Chongqing Municipality, and Sichuan Province introduced the drive's achievements and previewed relevant future measures.
The Western China Development strategy covers 6 provinces Gansu, Guizhou, Qinghai, Shaanxi, Sichuan, and Yunnan. Five autonomous regions -- Guangxi Zhuang, Inner Mongolia, Ningxia Hui, Tibet, and Xinjiang Uyger -- are also included, along with Chongqing Municipality.
Full Video: Press Conference: Western development ten years on Part(I) | Part (II)
The aim is to narrow the gap between China's coastal east and less advanced west. The main components of the strategy include developing infrastructure, attracting foreign investment, increasing environmental protection, promoting education, and retaining high skilled labor that has often flowed to richer provinces.
China's national economic planner says that, in the past 10 years, the drive has led to a number of achievements in various fields, including economic growth, ecological conservation, social development, and people's livelihoods.
Du Ying, vice minister of National Development & Reform Commission, said, "Economic growth, in sharp contrast to previous records, has reached 11.9 percent, year on year. In the past 10 years, the main macro-economic indicators have more than doubled. And we've seen breakthroughs in infrastructure development. You know the Qinghai-Tibet Railway and West-East Natural Gas and Power Transmission projects. These landmark projects have been completed one after another. Railway and highway capacity today are 1.6 and 2.8 times what they were 10 years ago. Power installed capacity is 5.5 times the size of 10 years ago. Fixed asset investment over the course of the past 10 years has reached 3.6 trillion yuan, five and a half times the total investments made in the previous five decades."
Now the central government is calling for serious and full implementation of all the measures taken to further boost the region's development.
Du Ying said, "Western development is high on the strategic agenda of China's balanced regional development. It is the foundation of promoting social harmony, and has a special role to play in promoting sustainable development. The general objectives for the following 10 years include lifting western development to a new stage in the following three areas: overall economic strength, the quality of people's lives, and ecological conservation."
The past 10 years have been a time when development in the western regions made its greatest-ever contribution to the nation's development as a whole.
In the coming decade, policy and financial support will continue in the region.
The central government, and local governments in eastern and central regions, will also intensify their support to the west, to realize healthy interactions and common development.
Related stories
Related:
Analysis: Further western development strategies
Mr. Tang Min, Secretary-General of the China Development Research Foundation comments on China's efforts to develop the vast western region.Full Story>>
Road to heaven, road to prosperity
Improving transportation infrastructure is a vital part of China's western development strategy, and the Qinghai-Tibet Railway is one of the blueprint's most vivid symbols. Full Story>>

Reporter: Xinjiang's progress under the Western Development campaign
Xinjiang's development has topped the government's agenda in "the Western Development policy". What changes have you seen in Xinjiang? Full Story>>
Editor:Zhang Ning |Source: CNTV.CN