Watch Video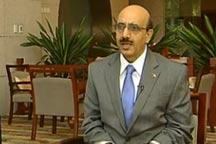 Play Video
For more on the relations between China and Pakistan, our reporter Wang Mangmang spoke with Masood Khan, the Pakistani Ambassador to China.
Masood Khan, the Pakistani Ambassador to China,said, "Yes, this is President Zardari's fifth visit. He attaches great importance to Pakistan's relationship with China. The significance is that he wants to strengthen our strategic partnership, strategic cooperation between the two countries. We want to also enhance our economic cooperation and we want to promote people-to-people contacts. All these issues are being discussed. Our region is facing challenges, particularly the challenges of terrorism. We have to overcome and fight terrorism and we have to foster conditions of peace and stability. That's why the meeting between our leaders is very important. And I think the basis for this relationship, the so called infrastructure, the environment is provided by the people. And therefore, President Zardari's here to promote people-to-people contacts.
First you have to understand the background of these exercises. Pakistan and China have a strategic partnership. And in this strategic partnership, the cooperation between our two armed forces is like an archery, a strategic archery. And our two armed forces have been holding their security and defense talks. They also have been holding joint training programs. And we have joint defense production programs. When we hold exercises, we share experiences and expertise that the two armed forces have, at all levels. This is why the exercise held in Ningxia is very comprehensive. They are using all sorts of assets and resources, human resources and technological resources. The objective is very clear: we want to defeat the forces of terrorism. Terrorism is a threat to China, a threat to Pakistan, a threat to regional and global security.
We have political solidarity. We have geographical continuity between the two countries. And we have civilizational links. The leaderships meet quite often. But we do have have the kind of economic cooperation we should have. We have good results, as a matter of fact in the recent years, which is about seven billion US dollars. But the potential is much more. It should be fifteen billion, or probably seven billion is not even one twentieth of the full potential of Pakistan-China trade cooperation. We hope, and we're working towards that, that we shall have more trade missions from China visiting Pakistan to promote Pakistani export. Similarly, we would hope the overall volume of our two countries will increase."
Related stories
Editor:Zhang Ning |Source: CNTV.CN