Watch Video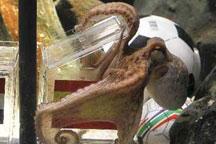 Play Video
Paul the Psychic Octopus has given his verdict on the final match between Spain and the Netherlands. Seeming as he's beaten every single football pundit to the correct result at the World Cup, take note.
Paul has squirted his ink in the direction of Spain who he's tipping to win the Final, but the underwater soothsayer now has a rival.
A huge head and eight arms, and a taste for sea food. The gentle giant of the deep appears to have an uncanny knack of predicting football results. Paul as he's known has correctly predicted the results of every German game at the World Cup. Fans of the Mannschaft can relax and smile after he picked Germany to secure third place with a win over Uruguay. He also is predicting a Spanish victory in Sunday's final. He made his prediction after grabbing a mussel devouring it from a box with Spain's flag on it, while completely ignoring the Dutch tank. But he has a rival to his crown.
South African city Durban also has its own underwater schemer. The city's Shaka Marine World held its own Wold Cup football forecast by letting Simphiwe the octopus give a uniquely South Africa prediction as to which team will win the World Cup. Simphiwe is not quite as good a showman as Paul, and after a short while waved a tentative tentacle towards the Dutch flag.
Judy Mann, Director of Sea World, said, "I think that perhaps there was quite a lot of pressure. I mean he is not used to performing for international film crews and things like that. So he was feeling a little nervous. He did go close to Holland, so Holland is in with a really good chance. But then again, Spain is still right up there, so we will have to wait and see."
Considering the pressure Germany were under after Paul the octopus picked Spain, the Dutch team should be happy to have someone rooting for them, even if it is from the bottom of a fish tank.
Related stories