Watch Video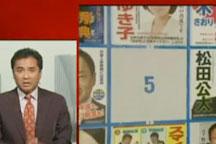 Play Video
We are joined by our correspondent Terrence Terashima in Tokyo... to discuss the vote for Japan's upper house. Hello, Terrence....
1. This is the first national poll since the Democratic Party of Japan came to power last September. How important is it?
2. The ruling coalition has been campaigning to secure at least 56 seats to retain a majority in the upper house. What are the chances of the DPJ achieving this?
3. Political insiders are already starting to speculate on the fall out, if the DPJ loses. If the DPJ does not get its majority, do you think Naoto Kan will go looking for coalition partners to get it over the line?
Thanks Terrence. That's our correspondent Terrence Terashima in Tokyo on the Japanese upper house election.
Editor:Zheng Limin |Source: CNTV.cn