Watch Video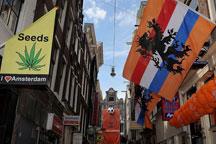 Play Video
Netherlands supporters decorated an Amsterdam street in orange to support the Dutch football team ahead of the World Cup final against Spain.
Residents declared the Dutch capital's Olimpia Straat the most beautifully decorated World Cup street. Many of the families living on the street have draped flags, banners and other decorations across their front yards. One resident said the decorating frenzy in support of the Dutch team started two years ago for the European Championships.
Ineke Van Meer, Amsterdam Resident, said, "Two years ago with European Cup, we did it too, we decorated, but not so much. So, every time we said we have to make more orange. We started with three families, after that they come, a lot more, 'oh we want to do with everybody, paint something', so it started it."
Editor:Zheng Limin |Source: CNTV.cn