Watch Video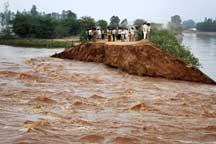 Play Video
Indian authorities have geared up to prevent water-borne diseases from breaking out in the country's flooded northern Haryana state.
Floods partially submerged villages in low-lying areas, which led people to take shelter on rooftops. Thousand acres of land for farming has been washed away.
All the crops have been destroyed and the dry fodder has been destroyed. Medical teams sprayed pesticides and dispersed lime in the affected areas.
They also advised locals of precautionary measures to prevent the outbreak of disease.
Vijay Garg, Chief Medical Officer, said, "People should use clean water for drinking, and add chlorine tablets to tank water. We've advised against using ice and consuming chopped fruits and overcooked food. People should wash fruits and vegetables before consumption."
Editor:Zhang Pengfei |Source: CNTV.CN