Watch Video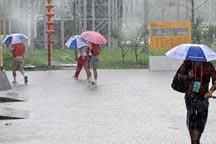 Play Video
Among the 10 provinces and regions suffering the rainstorms, Anhui Province and Hubei Province are the hardest-hit. On Sunday afternoon, a dyke on the Dasha river, in Tongcheng city, was breached, leading to an evacuation.
Some 80,000 people were relocated to safe areas of Tongcheng, as local residents and soldiers from the region rushed to repair the dyke.
Armed police captain, of Anqing City, Anhui Province, said, "We have mobilized 110 soldiers. Another 200 are awaiting orders. So in total we have more than 300."
To stop the surge, 8 trucks were pushed into the water. Earth and stones were piled up, and the situation was temporarily under control.
Meanwhile, at Donghu Road in Wuhan city, all pumping stations are working to drain floodwater on the roads. It is estimated that the drainage work will take up to three days.
Related stories
Editor:Zhang Ning |Source: CNTV