Watch Video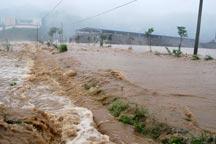 Play Video
Heavy rain continues to wreak havoc in Central China's Hubei Province, with no signs of easing.
By Monday, the extreme weather has affected the lives of more than 7 million people, leaving 21 dead and another 4 missing. From Sunday, 26 cities in Hubei Province have been suffering from heavy rain. Four hundred reservoirs have water levels above the danger line. 580,000 hectares of crops have been destroyed, and nearly 30,000 houses have collapsed. Authorities have evacuated more than 200,000 people.
Over in Chengui County in Hubei Province, torrential rains have made the county a virtual island, trapping 3,000 local residents. James Kim takes a look at the rescue operations.
A county cut off by flood waters.
For nearly 4 days, strong rains have been battering Chengui County, triggering landslides and flooding roads. On Monday, severe flooding trapped thousand of local residents. The local government is scrambling to carry out rescue operations.
Hu Qin, deputy head of Fire Bridge of Huangshi City, said, "As more rain is expected to hit the area, we have to rescue residents as soon as possible."
Crops have been submerged by the floods, with water levels reaching depths of four meters.
Houses located on lower ground, have shared the same fate as hundreds of thousands of acres of cropland.
Even with all the water around them, local residents are unable to drink from their wells due to possible contamination.
A local resident of Chengui County, Hubei Province, said, "We will have nothing to eat without the help of local government.'
Despite the rescue efforts by soldiers, some residents have chosen to ride out the storm in their homes.
A local resident of Chengui County said, "I have more than one thousand ducks in my house, they will starve to death if I leave."
After assurances from the local government that economic losses will be reimbursed, residents got the persuasion they needed to flee the flood waters.
Working around the clock, soldiers have helped save thousands of lives, by bringing them to safer ground.
Editor:Zhang Ning |Source: CNTV