Watch Video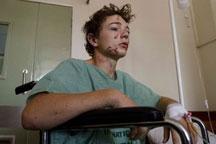 Play Video
A 14 year old American boy has told of his experience, a day after the two bomb attacks in Uganda's capital, Kampala.
Thomas Kramer was in Uganda accompanying his mother, a missionary from Pennsylvania, and her colleagues for dinner. They were watching the match when the explosion went off.
Thomas Kramer, Injured US Citizen, said, "We were at a place to eat Ethiopian food and we were watching the World Cup, and at the beginning of the second period, there was just this big explosion and the next thing I knew I was on the ground with a bunch of rubble. I was scraped up and I have a big laceration in my leg, it's like this deep, which I had to get surgery again for."
The boy's mother said her only thought was to save her son.
Mrs Kramer, Thomas' Mother, said, "I kind of jumped up and tried to shield my son, Thomas. There were a lot of people, a lot of chaos, a lot of commotion, a lot of... it was crazy."
The pair were part of a group who had travelled to Uganda last month and were supposed to have returned on Monday.
Thomas Kramer says he is thankful to be alive, as a friend of his only two seats away was killed in the blast.
Editor:Zhang Pengfei |Source: CNTV.CN