Watch Video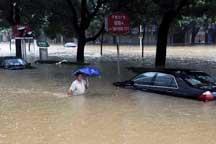 Play Video
Extreme weather is continuing to have a devastating impact on many parts of central and eastern China. Forecasts predict no let up in rainfall over the next three days, bringing greater risks of flooding and other geological disasters.
Statistics show that 14 rounds of heavy precipitation have hit China over the past three months.
The current wave of rainfall began on July 8th, and has caused havoc across provinces and regions along the Yangtze river.
Anhui, Jiangxi, Zhejiang, Hubei, Hunan, Guizhou provinces and Chongqing Municipality have all experienced downpours reaching 300 millimeters.
220 thousand square kilometers of land alongside the Yangtze have been ravaged by the severe storms.
A total of 96.1 million people have so far had their lives disrupted by the extreme downpours.
567 people have been confirmed dead and 251 others remain missing nationwide. Meanwhile, rain-triggered floods have destroyed 570 thousand homes, with direct economic losses standing at 115.8 billion yuan.
At present, water levels at the middle and lower reaches of the Yangtze, as well as at Dongting and Boyang lakes, are 1.5 meters higher than normal for the time of year.
The Ministry of Health says there are currently no reports of epidemics or other public health emergencies.
· 220,000 ㎡ riverside land affected
· 96.1 million people suffer disruption
· 567 confirmed dead, 251 missing
· Economic losses at 115.8 bln yuan
· Yangtze water levels up 1.5m
Related stories
Editor:Zhang Jingya |Source: CNTV.cn