Watch Video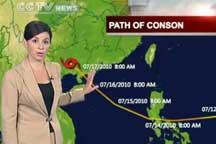 Play Video
For more information about the extreme weather China's experiencing, we're joined by Halla Mohieddeen, from the China Meteorological Bureau.
Weather forecast for S. China
1: Hello, Halla. It's been raining heavily now for several days. What is the forecast for the next few days in these areas?
Water level of the Yangtse
2: What about the water levels of the Yangtze River and major lakes along the river? How dangerous is the threat of flooding there?
Typhoon Conson to hit Guangdong
3: Typhoon Conson is also expected to make landfall in Guangdong Province shortly. Can you tell us more about that?
Thank you. That's Halla Mohieddeen at the China Meteorological Bureau.
Editor:Zhang Jingya |Source: CNTV.cn