Watch Video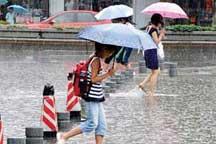 Play Video
Rain is continuing to pound Nanjing, capital of east China's Jiangsu province. The downpour has caused disruption and danger with soldiers mobilized to help with rescue and relief work.
Heavy rain caused some roads to flood in the city up to a depth of 40 centimeters. Vehicles had to pass in a single line.
Some cars broke down with their drivers waiting for help to arrive.
With landslides a risk on Tiger and Mufu Mountains, relocating residents is the local government's main concern. Police have visited people living on the mountain, advising them to move to safer areas.
Several have agreed and left their homes on Tuesday night, but others refused. Policemen are keeping a close eye on the situation.
A policeman of Baota bridge police station, said, "Baota bridge police station has arranged security personnel to tour the area day and night. If the situation is going to get worse, they will tell the residents and help them to leave."
In Hebei village, continuous rainfall has flooded hundreds of households. More than 60 firefighters are helping drain the water.
The work is difficult as the underground pipe is blocked by rubbish.
The work continues into the evening and it's not until 9pm that firefighters get their first meal.
Related stories
Editor:Zhang Jingya |Source: CNTV.cn