Watch Video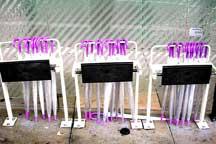 Play Video
For anyone unlucky enough to get caught outside without an umbrella in a downpour, help is on hand in one Chinese city. Commuters in the Sichuan capital Chengdu can now get free brollies on the buses.
Heavy downpours are battering many parts of China, causing great disruption. But now unexpected showers or worse won't be a headache anymore in Chengdu. The city's Media Group and Public Transport Corporation has launched a "Love in Chengdu--Umbrella for You" promotion. It's offering 20-thousand umbrellas on the city's 11-hundred buses. Each passenger can borrow one and give it back on any bus in the city.
Bus driver Lai Xiaogang came up with the idea three years ago.
Lai Xiaogang, Bus driver, said, "I didn't expect this to become such a big project. I will continue to do my job, providing good service to my passengers."
Lai Xiaogang began by buying dozens of umbrellas for his bus route, to help "unlucky" passengers. Now funded by a welfare charity, the project has an investment of 700-thousand yuan.
A local resident said, "This is a great plan, I love this idea."
The first 3-thousand love umbrellas were in place for Tuesday's launch. The rest will be ready early next month.
Related stories
Editor:Zhang Jingya |Source: CNTV.cn