Watch Video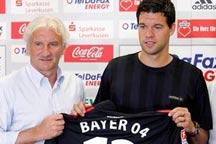 Play Video
Michael Ballack has found himself a new home. The 33 year-old midfielder, who was injured for the World Cup, was unveiled by Bayer Leverkusen on Wednesday.
Ballack also reiterated his stance that he will not willingly give up the German captaincy assumed by Phillip Lahm in South Africa in Ballack's absence.
The 33 year-old midfielder has signed a two year contract with the club he spent three years with between 1999 and 2002, after being released by English Premier League side Chelsea at the end of last season.
Leverkusen finished 4th in the Bundesliga last season, following several poor seasons.
When it comes to his place on the national team...Ballack remains firm in his stance that he is still the leader.
Michael Ballack said, "I think I am still the national team captain. It's no discussion for me. If Philipp (Lahm) sees it differently he should perhaps discuss it with the coach. I think the coach decides. It's not a "Wunschkonzert" (musical request program), where every player can wish, imagine or say on which position he wants to to play"
Editor:Zhang Ning |Source: CNTV