Watch Video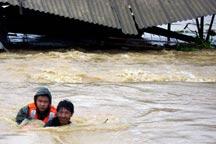 Play Video
Since the start of July, at least 135 people have been killed, with another 41 missing, in what has become China's worst flood season in years.
For more than 2 weeks, close to 35 and a half million people in 10 southern provinces and Chongqing Municipality, have been affected by continuous rainstorms and floods.
About 113,000 homes have been destroyed and more than 1.2 million people have been relocated. Direct economic losses are estimated at about 26 billion yuan. Heavy rainfall has raised water levels in many rivers in the middle and lower reaches of the Yangtze River.
A new round of rainstorms is expected to pelt the river course soon, bringing the possibility of serious floods. The speed of water discharge on the river's Three Gorges Dam was raised on Thursday afternoon to make space for the upcoming gushing flooding waters.
Editor:Zhang Ning |Source: CNTV