Watch Video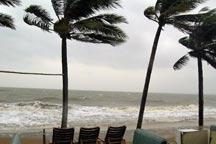 Play Video
China is battened down waiting for the arrival of Typhoon Conson. It's been downgraded to a tropical storm but is still strong enough to wreak serious damage.
With the country on alert for its worst floods in years, the arrival of Conson will add to the misery. Conson is due to hit Hainan late on Friday. An orange alert for wave surges up to six metres high has been issued for the South China Sea. In Zhanjiang City in Guangdong province, local government is geared up for handling a disaster. A warning to ships is being broadcast every hour. More than 20,000 residents have been relocated, and 4,000 people working offshore have returned to land.
Wu Jiezhong, vice mayor of Zhanjiang City, Guangdong, said, "All fishing boats have returned to harbor, and all offshore workers have been disembarked. We aim to relocate all the residents living in low-lying areas, and people living in dilapidated houses, to safe places."
Editor:Zhang Ning |Source: CNTV