Watch Video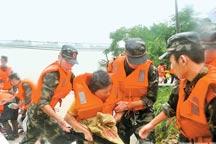 Play Video
Over the past few days, torrential rains have been battering East China's Jiangxi Province, wreaking havoc in many cities.
In Poyang County, the heavy rainfall caused four reservoirs to overflow on Wednesday, forcing 10,000 people to leave their homes for higher ground. Local governments are making every effort to rescue residents. James Kim takes a look at the ongoing rescue work.
A county crippled by floods.
As reservoirs on the upper reaches of the Xihe River opened sluices to discharge water, the county is submerged by up to three meters of water.
In some places, water levels are so high that only the crowns of trees can be seen. Many houses have suffered the same fate as the trees, totally submerged by water.
Soldiers have been working non-stop to rescue local residents, despite the cold weather.
A rescue soldier said, "We began the rescue work yesterday, and now, we will transfer the fourth group of residents. We have over one hundred soldiers altogether."
Buildings under the water are making travelling difficult. To make matters worse there's also heavy fog.
As so many people wait to be rescued senior citizens, children and the sick are the top priority.
A rescue soldier said, "The oldest person we evacuated is 92-years-old. There are also children who are sick."
After many difficulties, soldiers arrive at their destination, where an elderly woman and a child are waiting for their help. They wave to soldiers when they see them. Then, soldiers help the woman aboard the boat.
Later, they begin to rescue other residents of all ages. Thanks to their help, almost all residents have been successfully moved to safer ground.
A rescue soldier said, "Local governments have prepared houses for residents. Food aid is also being provided."
Working around the clock, soldiers are continuing the rescue work despite the coming night. It's predicted that water levels will not drop in the next few days, with the region still remaining on a high flood alert.
Editor:Zhang Ning |Source: CNTV