Watch Video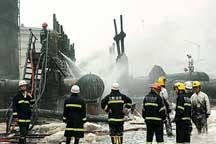 Play Video
After 15 hours of continued effort, fires triggered by two oil pipeline explosions in the port city of Dalian, in northeast China's Liaoning Province, have been extinguished.
A 0.9 meter-diameter oil pipeline exploded at about 6 p.m. on Friday in Xingang Harbor. The resulting fire then triggered an explosion in an adjacent smaller pipeline.
No casualties have so far been reported.
Over 400 firefighters tackled the blaze, and the operation was later wrapped up, with all fires in the core areas being extinguished. A cleanup operation will now begin.
High temperature oil continues to leak from a 100-thousand-cubic-meter tank linked to the pipeline. And the possibility of a second fire is not being ruled out. Soil and cement are being used in an attempt to contain the spill.
President Hu Jintao and Premier Wen Jiabao have been informed of the details, and are giving instructions over the incident. Vice Premier Zhang Dejiang arrived at the site on Saturday night and directed the emergency operation.
An oil tanker that was unloading in the harbor when the blast broke out, managed to escape the scene.
Both pipelines are owned by China's National Petroleum Corporation. The cause of the incident is still under investigation.