Watch Video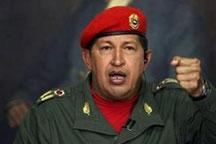 Play Video
The Venezuelan government has recalled its ambassador to Colombia. It comes after the Colombian government said guerrillas from the country are taking refuge in Venezuelan territory, worsening ties between the two nations.
Thursday marked the first time that Colombia's government publicly stated that it had proof that rebels are hiding in Venezuela.
Gabriel Silva, Colombian Defense Minister, said, "The reason for the deterioration in relations between Venezuela and Colombia is the continued and permanent tolerance of the presence of terrorists in that country."
Colombia says it has evidence that several leftist leaders of the Revolutionary Armed Forces of Colombia, or FARC, as well as the National Liberation Army, or ELN, are in Venezuela.
The charge is likely to strain bilateral relations already frayed by a deal allowing US troops access to Colombian bases.
Venezuelan President Hugo Chavez has called the pact a threat to Venezuela's security.
Hugo Chavez, Venezuelan President, said, "The fact that we aren't giving in to provocations doesn't mean we're going to remain silent before these attacks. We are also not going to let our guard down."
To make things worse, Venezuela exhumed the remains of 19th century independence hero Simon Bolivar on Friday. It says it will test them to see if he was poisoned by enemies in Colombia.
In his recent visit to Miami, Colombia President-elect Juan Manuel Santos, who has stated a goal of improving relations with Venezuela and Ecuador, proposed talks.
Juan Manuel Santos, Colombia President-elect, said, "Why don't we re-establish a dialogue to see how we can resolve the problem that is before us today: the presence of terrorists in Venezuelan territory. If there's no dialogue, how can we resolve those problems? That's my intention: to open that dialogue."
Santos is set next month to succeed two-term President Alvaro Uribe.
Colombia requested on Friday that the Organization of American States hold an extraordinary meeting to discuss the alleged presence of Colombian guerrilla groups.
Related stories
Editor:Zhang Pengfei |Source: CNTV.CN