Watch Video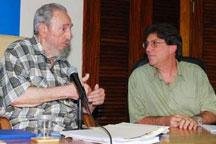 Play Video
Fidel Castro took questions from Cuban ambassadors at the Foreign Ministry on Friday and warned them of the threat of a global nuclear war.
It was his fifth appearance in less than a week, and the first in which he met with senior government officials.
Castro counted the number of nuclear warheads of the United States and Russia, saying a nuclear war is imminent pitting the US and Israel against Iran.
In an earlier appearance this week, Castro brought up his fear that America would unleash a nuclear war, something he has been warning about in opinion pieces for weeks.
The former Cuban leader stepped down in July 2006, after emergency intestinal surgery.