Watch Video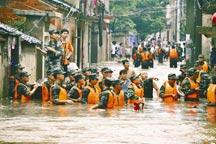 Play Video
Turning to Guangshui City in Central China's Hubei Province and some 260 millimeters of rain has fallen in a span of twelve hours. The city is now submerged by flood water, measuring as deep as three meters in some places. Although some residents have been rescued, many thousands more remain trapped.
3 thousand soldiers from an airborne unit based in Hubei, gathered at 4 am Saturday morning to launch a rescue mission.
Yan Zhenxiang, commander, Airborne Unit,said, "I need 6 strong swimmers! Take the rescue boat. Come with me."
In Nanxin Street in Guangshui City, where water levels are 1.5 meters, a 70-year-old lady was trapped for nearly 6 hours. Soldiers broke the kitchen window with an iron hammer, and carried her to safety.
A local resident pf Guangshui City, said, "We couldn't get out of our house. Thanks to the soldiers, we're safe now."
Some of the worst flooding occurred in older communities. Old buildings are in danger of collapse, after being soaked under water for too long.
10 rescue teams have been deployed to those areas to search for trapped residents.
A rescue soldier of Guangshui City said, "We are searching for victims door to door. We'll save the children and older people first."
So far, soldiers have successfully evacuated 10,000 residents from Guangshui. All are reported to be in good condition.
Editor:Zhang Ning |Source: CNTV