Watch Video
Play Video
The Three Gorges Dam Project on the Yangtze River has undergone its first major flood-control test Tuesday morning.
The flow on the river's upper reaches neared 70,000 cubic meters per second on 8am local time, 20.000 cubic meters more than during the 1998 floods.
China's Three Gorges Corporation said on Monday that discharge levels at the dam had risen to 40,000 cubic meters a second as of 10 am local time. The company said it would remain at that level until 3 pm, and then would be reviewed.
Heavy rains have increased the volumes of the Yangtze River and its tributaries, especially along the upper Jialing and Mintuo rivers. The Three Gorges and the Danjiangkou Reservoirs have helped to regulate the massive water flow.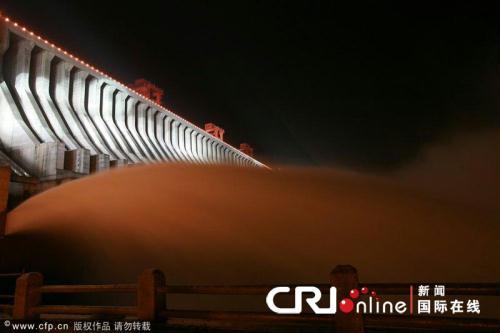 The water inflow reached 69,000 cubic meters per second at Three Gorges Dam in
Yichang, central China's Hubei Province, at 10 p.m. Monday.(Photo: CFP)
Related stories