Watch Video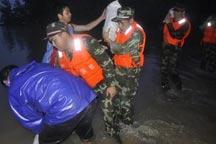 Play Video
Rainstorm continue to batter central China's Hubei Province, with Xianning city one of hardest-hit areas. Yang Yan tells us how a boat carrying much-needed supplies overcame obstacles to reach grateful villagers.
Several soldiers and two doctors set off in this boat to reach stranded villagers and deliver much-needed supplies.
Their voyage took them past the submerged Nanchuan village, where houses, crops and trees are all underwater.
Traveling posed a hazardous journey. Ten minutes into the trip, the boat hit its first snag when the propeller was tangled in floating grass.
After freeing the propeller, they chose another route to continue their journey. But this time, protruding branches from trees posed a danger. The boat's engine shut down, forcing the driver to use bamboo poles to move forward.
A further two kilometers ahead, the boat hit another snag - this time a fishing net. Everyone hopped overboard to help free the boat.
After one and a half hours, the vessel finally arrived at its destination. Doctors examined locals and handed out medicine to those in need. Militias were divided into three groups to reach villagers in remote areas.
Villager He Xingming said, "We have been living here for four days. Water and rice has been delivered by soldiers, they helped us a lot."
Cheng Xiaoxiong, political Commissar of Xian'an District Armed Force Dept., said, "Since the disaster happened, we organized staff in our department and militia to send water, rice and medicine to villagers to meet their basic needs."
The transfer of daily goods will continue until the flood waters recede.
Editor:Zhang Ning |Source: CNTV