Watch Video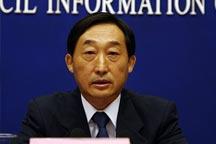 Play Video
China's State Council Information Office has held a press conference on the country's flood control efforts. Vice Minister of Water Resources, Liu Ning, took questions from reporters, giving the current status of the disaster, and outlining how the Three Gorges Dam was helping to alleviate the flows.
This flood season has seen frequent heavy rains. Rainfall was strongest between the 13th and 27th of June, and the 8th of July. Rainfall in southern and western China has been between 30 and one hundred percent higher than historical average.
Full Video: Press Conference - Briefing on China's flood control efforts (I) | (II)
Liu Ning, vice minister of Ministry of Water Resources, said, "This flooding season has affected a total of 113 million people in 27 provinces, municipalities and autonomous regions, and over 7 million hectares of farmland. The disasters have left 650,000 houses destroyed, 700 people dead and some 350 others missing. Direct economic losses are estimated at over 140 billion yuan."
Comparing this year's flooding with those of 1987 and 1998, the vice minister said the current situation is different, as the floods 12 years ago covered the entire Yangtze River.
Liu Ning said, "This year's flooding happened mainly at the upper reaches of the Yangtze. The peak flow in that region is higher than that in 1987. The Three Gorges Dam has seen record high flows since it was completed. Water levels at the lower reaches have been much higher than average. But the total rainfall along the entire river has actually been 20 percent less than usual."
The flood season has the massive Three Gorges dam to the test. The dam helping to tame the worst flooding in decades, as it blocks more than 40 percent of upstream water. And its huge reservoir is also being used in a scientific way.
Liu Ning said, "The Three Gorges Dam has a flood control reservoir of 21 billion cubic meters. It was divided into three levels. 5.7 billion cubic meters are kept up to 10 meters above the current alert level of 145 meters. 3.3 billion cubic meters are kept between 155 and 171 meters, and another 12 billion cubic meters between 171 and 175 meters. This can be used to cope with heavy recurring floods."
As rainfall continues across many parts of the country, flood control and relief efforts still face great challenge in the coming days. Besides control work along the Yangtze and Huaihe rivers, measures in the next phase will also focus on the situation along many rivers in the North, and effects brought by possible typhoons at sea.
Editor:Zhang Ning |Source: CNTV