Watch Video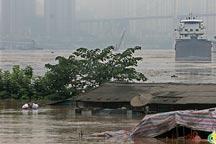 Play Video
In Southwest China's municipal city of Chongqing, overflowing water from the Yangtze has killed 7 people. The flooding has spread into 16 districts and counties in the city, and one hundred and ten thousand people have had to be evacuated.
In Chaotianmen Harbor in Chongqing, there used to be a clear dividing line between the Yangtze and Jialingjiang rivers. But now, that line has disappeared.
The harbor was once a thriving place. But now Marne inspector Li Kewen said, "We are patrolling on the river to check for small boats. They shouldn't be there as they could cause incidents."
The width of the river has spread to one kilometer in some places. It's normally only 100 meters.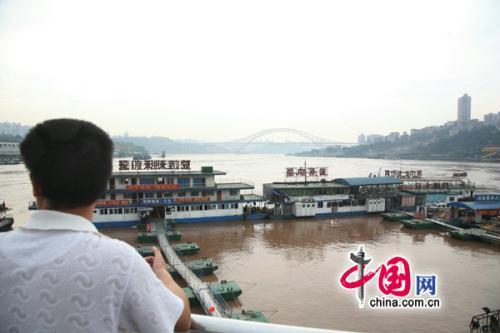 Photo: Chao Tian Men Harbor, Chongqing, July 19th. The footway along the Yangtze River
has been submerged under water. All boats are anchored, and all shipping is strictly
prohibited.(CNTV.cn)
Water levels in the city have risen by 18 meters since Monday. The footway along the river has been submerged under water. Shops, pubs and businesses near the river were forced to closed due to the flood.
Meanwhile, a rain triggered landslide hit Chengkou County of Chongqing on Monday. Rocks and mud cut off the river, forming a 5 square kilometer barrier lake, threatening nearby villages.
Emergency workers have detonated two explosions to try to breach the barrier, and some of the water has now been discharged. The local authority has sent several excavating machines to clean up the remaining debris.
So far, cleaning work is still underway. Local officials say the good news is that no more rain is predicted before Sunday. Workers will have a window of opportunity to finish the cleanup operation.